In reply to Adam Perkin's "The Welfare Trait" Jonathan Portes of National Institute of Economic and Social Research has made the following comments:
The basic data points are a) on average, working households have more kids than workless households: 15.4% of households are workless, but they only contain 11.8% of kids
http://www.ons.gov.uk/ons/rel/lmac/working-and-workless-households/2015/rft-table-1.xls …
b) there is no pronounced SES fertility gradient, but households headed by unemployed people have fewer kids:
https://pbs.twimg.com/media/CYjRfpzWMAEX4YE.jpg:large …
The thesis "more children are born to welfare claimants" does not appear to be supported by the data, and certainly not by the data cited by Perkins.
My comment:
In contrast to Perkins' Figures 9.1 and 9.2 showing average number of children for working, mixed, workless and troubled households, Portes has also tweeted and ONS figure showing the data for socio-economic classes, but this is not average number of children, but 1-2 children and 3+ though the former is said to be the better measure of average family size.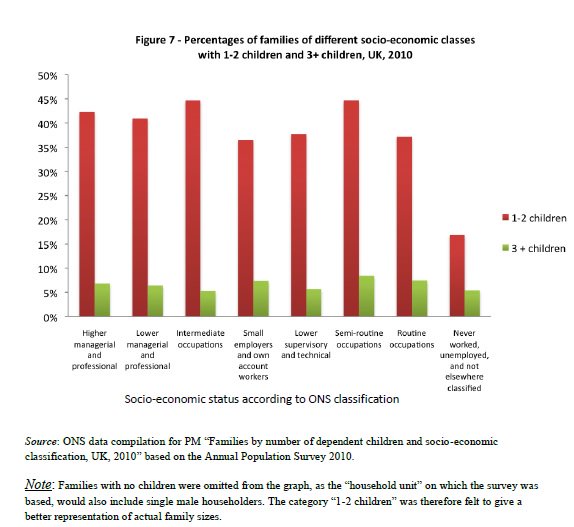 This is only one aspect of the thesis Perkins is putting forward, but it is an important one. From a methodological point it seems to revolve round the distinction between "all workless households" and "all workless households with children" where the first is the better measure of the interaction between worklessness and welfare than the second. To my eye the different measures (average number of children) versus (percentage with 1-2 or 3+) make the final comparison somewhat more difficult to evaluate.
Have a look and see what you think.